25th September 2022

//
Signs...
It's very hard these days to take images without at the same time including a load of background clutter. Amsterdam, in particular, is a real pain for this: for all the amazing architecture, the beautiful canals, the cutesy squares and vibrant life, there's about a billion signs posts bombarding you with information that is for the most part self-evident. 
Don't walk here. Walk there. One way street. Closed street. Forbidden for this, forbidden for that. No parking. 
And so on. Ugly, useless, over informative signs that add nothing, that only detract from the beauty all around. Even in places like Hembrug, where I was last Sunday is filled with signs forbidding this, that and the next thing. The difference between the two places is that unlike Amsterdam, where there are at least people to see the signs, at Hembrug there is literally no one to see them. Signs that add no value, that do not make the place any safer, or clearer, or more understandable. 
They're just, sort of, there ... 
16th September 2022

//
Polders ...
Up early on a Friday morning and just enough time to go and make the most of the lovely morning light that shone through the trees along the bike path out at the front of the house. Grabbing the camera and the 35mm f1.4 I rushed out in my pyjamas and snapped a few - well, ok, 92 - images to get the creative juices flowing again.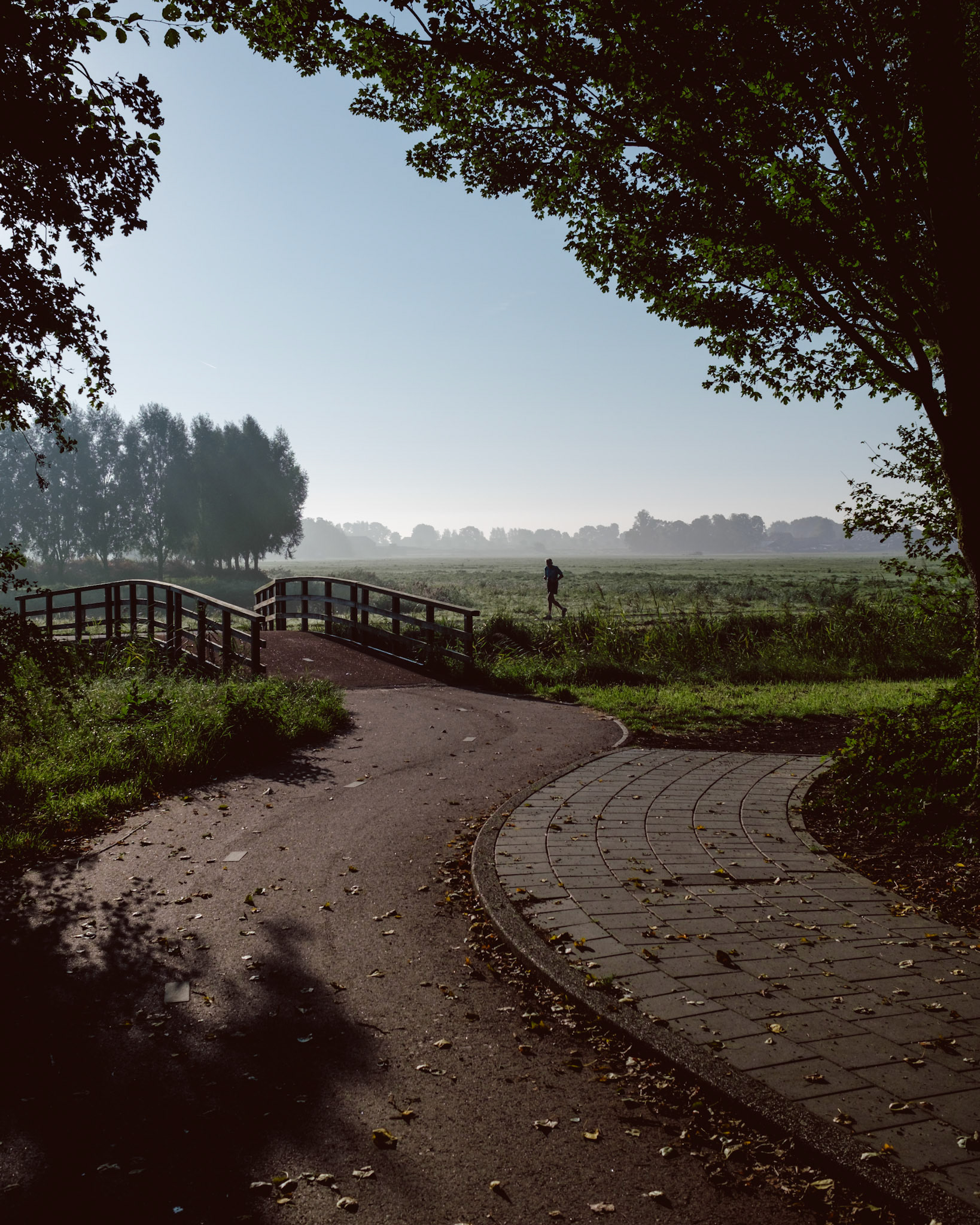 15th September 2022

//
Signs ...
From the archive, a short series on the theme 'signs'.
14th August 2022

//
Ideas For Those Days When Inspiration Is Hard To Find ...
A nice blog from Lucy Lumen's blog,
Analog Adventures
. I would never think of something like this. I hate IKEA with a passion you can only imagine and, in fact, the only way to get me there is the promise of an ice cream
and
a hot dog. I'm 52. 
12th August 2022

//
People of Galway ...
A few images from a day of people watching
(mainly from the back because I'm still a nervous street photographer)
. It was a really sweltering day, unusually hot for the west of Ireland so, at some point I sat down outside Eason's on Shop Street and pointed the camera at the people passing by (the last three images below). 
I really love the way the
23mm f1.4
brought out the best of the light that day, particularly when shooting at f1.4.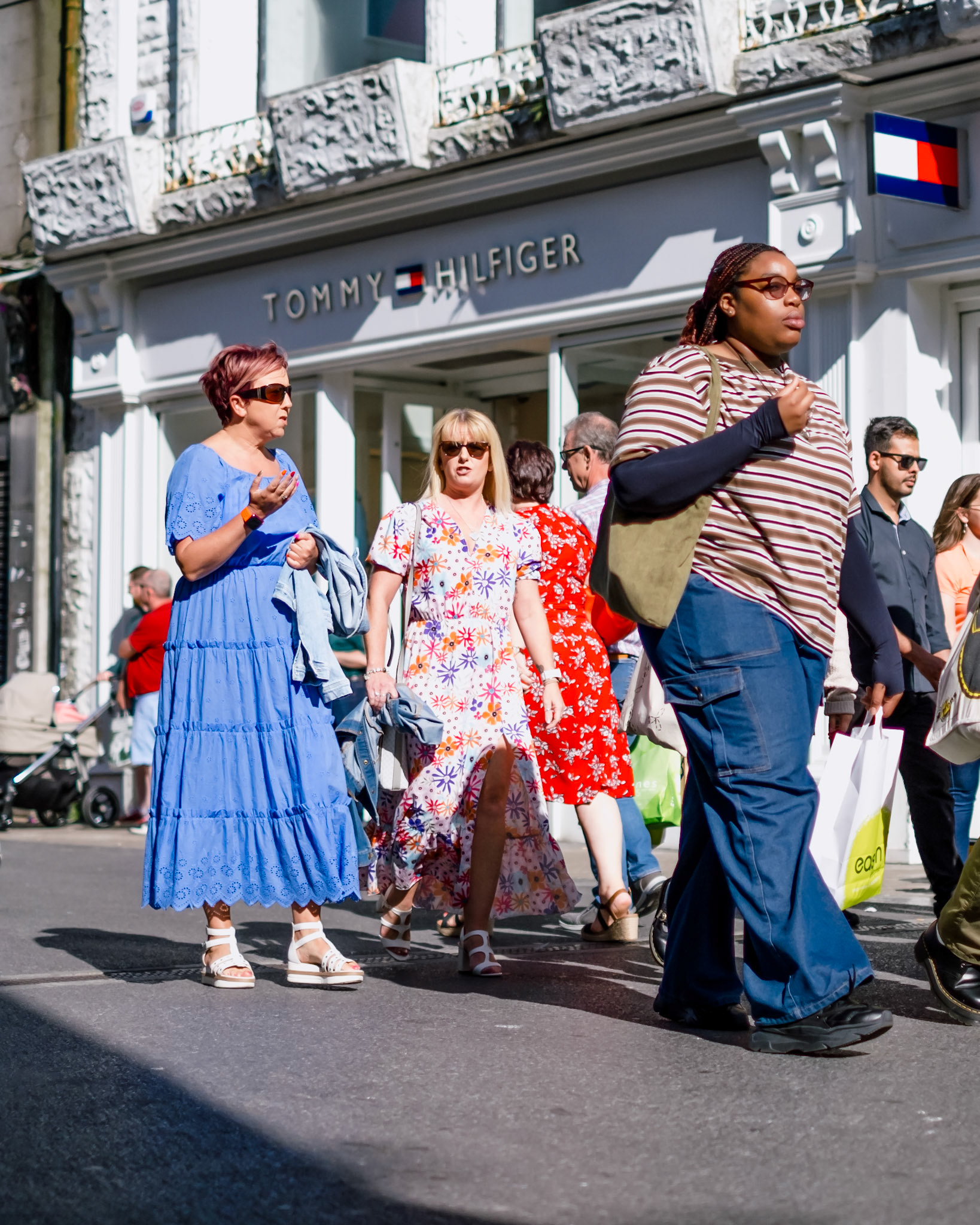 05th August 2022 //
A Few Images From The Holidays...
Just wanted to post a few images from the holidays. Nothing special, but I've been playing around with a new preset, or, at least, my version of it. It's called "Classic K14 64er" which I am guessing is based off of an old Kodachrome film stock and which I got from the excellent
Classic Presets
site
(link)
. It comes with quite a few film stocks, but I've adapted one to make it a little cooler and darker although I do adjust per image. Like most presets - and this is also my experience with Fuji files generally - it doesn't really handle greens particularly well so anything with a lot of green generally needs a lot of work. 
15th July 2022 // 
The Photowalk Podcast ...
I don't know if you like listening to podcasts, but I love them! There's quite a few photography-based ones, 
the candid frame podcast
, 
The Beginner Photography Podcast
 and 
Hit The Streets With Valerie Jardin
 to name but a few, but the one I listen to the most is The Photowalk, the podcast from the excellent 
Photography Daily
. To quote from the website:
The Photowalk show embraces the mindfulness of walking with a camera, being in the great outdoors and making pictures. We invite you to lace your boots and walk along with the cast in your ears as host Neale James shares stories of inspiration, letters and pictures from your own walks and talks with photographers and creative people worldwide.
Most of the episodes are just over an hour long and are incredibly relaxing to listen to. Host Neal James takes us along on his photowalk and shares his thoughts and images with is as we wander along with him. There are always celebrity guests and interviews with photographers from the Photography Daily community. I can heartily recommend it - the link is here --> 
Photography Daily podcast episodes 
On the Contact page there's a wee questionnaire you can fill in if you want to get in touch with the programme, and here is my entry! 
Q: Why you shoot what you do?
I like to capture moments of silence and peace, that's always the vibe I go for in my images. I think it reflects the fact that I'm a natural introvert. I'm not really a people photographer, they get in the way of my images! That's not to say I don't try traditional '
street photography
', but people are not the central theme of my images. I might use them to convey a sense of scale, or emptiness. Rather a beach with one or two solitary figures than a whole square full of people.
Q: What kit do you use and why?
This is the easy question! I shoot with an
X-Pro3
and, depending on how I feel, either the
23mm
or
35mm f1.4
or the
50mm f2.
They're the only lenses I own!
Q: How making pictures has changed your life?
I think the biggest change has been that I now no longer look down at the pavement. Instead, I look up and notice all the little things, the way light reflects off a building, or a quiet corner somewhere in the busy city.
15th July 2022 // 
My First Fuji Camera ...
Looking through my bookmarks on the computer this evening I came across an
old review of the Fuji X10
, the very first Fuji camera I owned. I bought it in Dublin airport on the way back home to The Netherlands. I don't recall how much it cost, but I do remember that at the time the reviews were simply amazing. I was taken in mostly by the vintage looks (the technical details meant little to me) and the optical viewfinder, a viewfinder that turned out to be mostly useless, but it looked good. I also bought a lens hood for it to really pimp it good 'n proper. 
I don't have a lot of memories of using it, but I do recall a trip to Scotland with it. The image quality from the 12megapixel sensor was remarkably good, the lens was pretty sharp, and the LCD screen was pretty good. You can see from this early model where Fuji was heading. Many of the features of this camera are still found on their current range - the dials, the AF mode selector on the front, the 'Fn' button on the top, the button layout on the back as well as the general ergonomics. I've always loved the way Fuji camera's sit in your hand, much more comfortably than the larger Canon's and Nikon's and the awful Olympus OM-D range which are just too small. 
I eventually sold it for an XT-10, which was in turn replaced by an XT-20, then an XT-2 (which I still have) and finally the X-Pro3, a camera I love very much. I've always wondered why I have such an affinity with the X-Pro3 but seeing this I understand why - the X10 is basically the prehistoric ancestor of the X-Pro series!
13th July 2022 // 
Zuidas...
I have a number of 'safe' locations I always go to when I am too lazy or too socially awkward to go anywhere else: Durgerdam, NDSM, Hembrug and Zuidas. The Zuidas is where I work (my office is the one on the top row, far right) so it's familiar territory. The light after dinner was amazing so I used the excuse that I needed to fill up the car to explore the area. I used my 23mm f1.4 for this, and the images are not bad, but nothing to write home about. But the point is that I was out, something I hadn't done for a long time. I don't feel in a good space right now, mentally, demonstrated by a total abandonment of my diet, so I need to really make an effort to go out and do something creative. 
7th July 2022 // 
Fred ...
I had some time between meetings at work today, so time to get the camera out and take a photo of the nearest meaningful object. I love Fred Perry and Ben Sherman stuff, and this was hanging on the back of the chair, so, yeah .. Snap. 
Still not feeling desperately inspired. I really must go and find my mojo .. 
27th June 2022 // 
New Toys ...
So today I managed to get out to try out the new 35mm f1.4 that I traded the 18mm in for. It's one of those lenses that every Fuji-afficionado says you simply have to have. I had been looking around for one for a while now but given its popularity they're surprisingly hard to get hold of. I had found one for around €280 but it was all the way down in Belgium (near the border with France) and would have meant a 7-hour round trip and with the petrol prices being what they are it would have pushed the price up quite a bit. In the end I found one for €300 and financed it by selling the 18mm f2 that I'd used for the workshop with Robin Schimko. I will probably regret that - this was the third 18mm I had bought. I do like that lens, wide enough without the extreme wide angles you get with the 16mm (and I've owned both!) but for now the 23mm f1.4 will be as wide as I go!
These were all taken at f1.4 during my regular lunchtime route around the polders. It was also the first time I'd been out with the camera since the start of June. For some reason I just couldn't really find my 'mojo' to go out and take some images. Since the workshop on the 4th and 5th June I had Covid and was quite sick for a few days, followed by a week or so where I was just exhausted both mentally and physically. I really couldn't be bothered with anything. I just hadn't the energy for it. Instagram just wasn't inspiring anymore; I'd seen all the videos on street photography while I was laid up in bed and read all the books and forums and how-to guides to the point where I got sick of it.  
Quite simply, I had a case of photography burnout. 
I'm fighting to get that mojo back but it's taking a while. I'm sure this is quite normal, and it'll come back. Hopefully, today's walk is the start of that recovery.
Ever had photography burnout? How did you recover?
12th June 2022 // 
Friday Finds ...
Welcome to the first of a regular series in which I share the best Instagram accounts that I've found this week. 
❋ David Murray Greer is a Scottish Highland guide and photographer // davidmurraygreer 
❋ Bert is a Krefeld based photographer // bert_film
❋ Gordon takes amazing images from and around Dundee, Scotland // gordonw_str
❋ For a nice slice or Montana Americana, check out Krissa's page // _mt_maverick
❋ Matt Williams makes great shots of the interesting folk who make the place Leigh on Sea // seen_in_leigh
❋ Andreas Ulvdell is from Lerum, Sweden // uvdl
❋ Check Colin Templeton's feed for some brilliant minimalistic urban landscapes // colintempleton
3rd June 2022 // 
People ...
So, I've been looking through my archive of images in preparation for the workshop tomorrow and I've noticed that people hardly feature in my images. Trees, desolate buildings, and empty urban landscapes aplenty, but people, not so much. As a confirmed card-carrying introvert (I've a note from my mother) taking images of people, and the fear of getting the granny knocked out of me, as well as not wanting to bother people too much, has always held me back from true street photography. There are techniques for all of this of course, and there are plenty of books and videos on YouTube to help you get over this (seemingly irrational) fear and it's something I hope to get better at because I can't help but feel that 90% of photography is just passing me by. 
These images were taken in Galway on our holidays and were taken in colour, but I've changed them to monochrome because it just seems to fit the images better. Nothing special, imho, but I'm keeping my fingers crossed for some enlightenment this weekend!
3rd June 2022 // 
Light ...
Some scenes from our holiday in Germany, taken at Hohenzollern Castle. I loved the light in some of the rooms around the place. 
2nd June 2022 // 
Workshop ...
I'm taking part in a workshop with Robin Schimko this weekend. A street photography workshop, at that. Yes, time to confront my worst fears. As part of the prep work, I have to choose 5-10 images that best represent my work, so I spent a pleasant evening choosing some images from over 32,000 candidates in my Lightroom library. This is the result ...
As you can see, it's not exactly street, it's not exactly landscape, it's not exactly new topographics. It's a mish-mash of a lot of different things, not one thing, not another. I'm still searching for my thing, whatever that is - I'm hoping to find that out this weekend.
For now, I have to trim this down to about 10 images ... but which ones ...?
24th May 2022 // 
Gear Update ...
I recently sold off a lot of gear in an attempt to simplify my life and save my back from lugging around a huge array of lenses. I traded in my 23 and 35 f2's for a 23mm f1.4 which is now attached permanently to my X-Pro3, and the 55-200mm for a 50mm f2. Together with the 18mm f2 on my old XT-2 this is the gear that I'll work with for the time being (although the XT-2 will only get the occasional outing, it's more to keep the 18m warm!).
I've owned a lot of gear over the years, sometimes even rebuying lenses I've gotten rid of in previous rounds. This is the third 35mm f2 I've sold, the second 50mm f2 I've owned. I've also owned, at various times, the 27mm f2.8 (loved that wee lens), the 16mm f1.4 (cracking images, but it just required you to be too close to the action) and the 16mm f2.8 (hated that one, urgh). I've also had the 18-55mm (very run-of-the-mill, that one. I used it in Paris) and at least one 23mm f2 (my go-to lens, but I wanted the 1.4, not to mention the rave reviews it was getting) as well.  
Every time I say that that's me now, I have the ideal setup, but I know that it probably won't last! 
I mean, I'd quite like the 35mm f1.4 as well ... 
18th May 2022 // 
Colours ...
A few more images from a recent trip to NDSM. I was looking for contrasting colours, or at least sharp, vivid colours.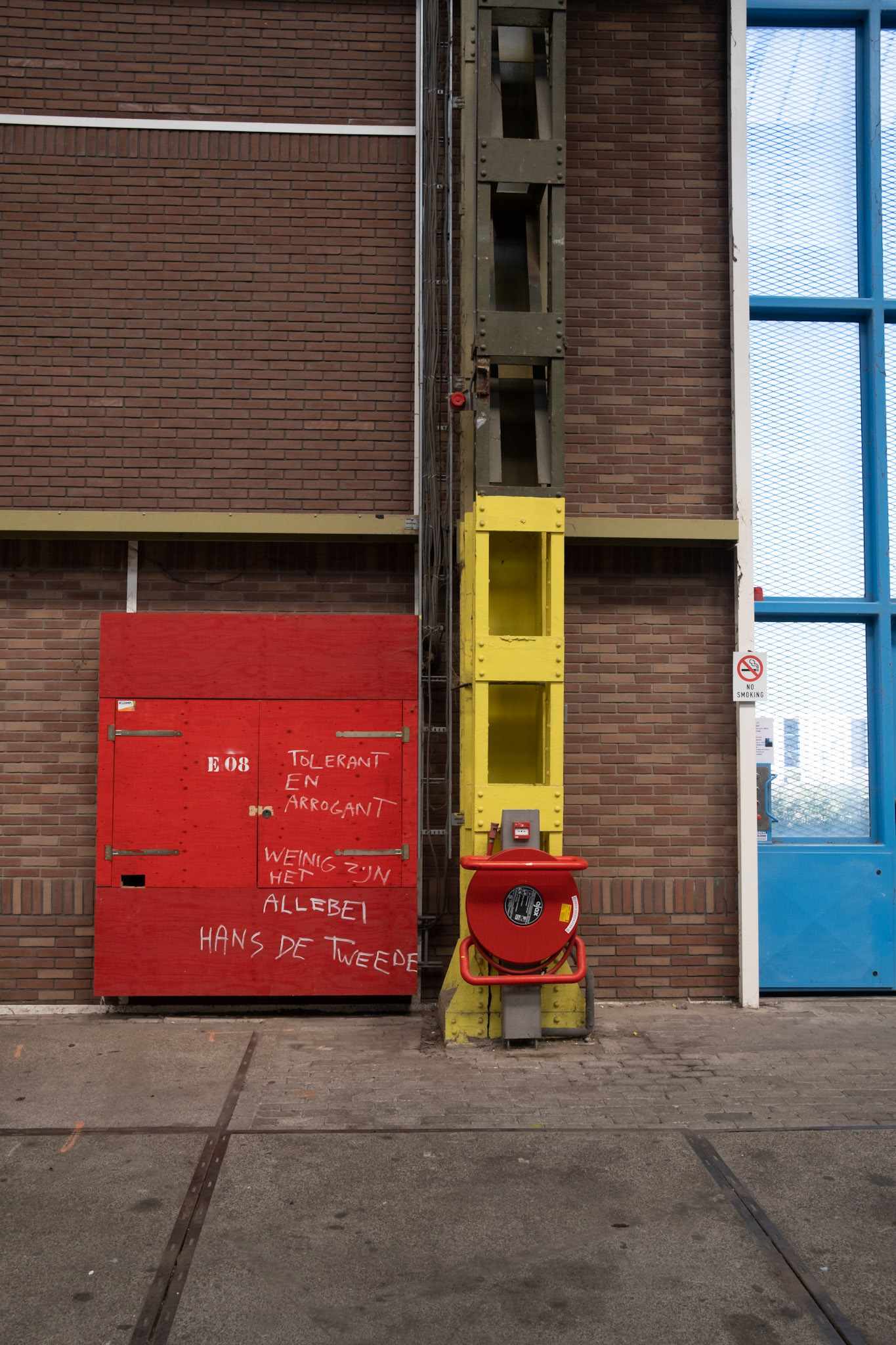 7th May 2022 // 
Portraits ...
Some portraits from a recent trip to town ... 
06th April 2022 // 
Rainy Day, Dream Away ... 
The weather has taken a bit of a turn. To think that last week I was wiping Saharan sand off the car, then a few days later I'm scraping ice of the windscreen. So, for the last few days I've been sat at my desk overlooking the estate through the raindrops on the windows. 
29th March 2022 // 
Website updates ...
I spent a bit of time today updating this site. I love the fact that I have one tool with which I can post images in a structured way if only Portfolio was a little better at pure text, not to mention the fact that you need some kind of supercomputer to run it when you're editing. This laptop is no slouch, but it really struggles sometimes with a lot of images being posted. 
One of the things I do on Instagram is make use of the 'Save' feature. This is where I collect any Insta accounts that I've come across that I want to keep an eye out for. Here are a few from this month, you should really check them out!
28th March 2022 // 
Time to try again ...
Right, time to try this blog again, only this time in a more manageable way. For all its benefits, Adobe Portfolio is not exactly the most user-friendly website. And certainly not for blogging. So, I deleted the old blog and hope to start this all over again. With a bit of luck, I can actually keep it up this time!
30th January 2022 // 
A Lesson In Checking Your Camera Settings ...
So, on Sunday I went out to NDSM (link) to take a few images and, really, just for somewhere to go after a boring day. It took me a while to get into the swing of things but eventually the photos started flowing and I came away with a few winners. Or so I thought. When I got home, I found it all the images where in 16:9 format and for the first time ever I had not bothered to shoot in RAW.